Personology: Discovering Your Personality
The Personology Institute announces the publication of its first major book on Personology. You have never seen anything quite like this magnificent new book. Personology: Discovering Your Personality is a one-of-a-kind experience and a real attention-getter. You will love the exciting, contemporary layout. The unique cover designs are state-of-the-art graphical delights---with muted tones, a distinct conceptual theme and a very strong tie-in to the content. The high-quality spiral binding and vinyl-wrapped hard covers allow the book to lie flat when open. It contains forty-eight major traits in a hefty 235 pages, filled with personal stories, drawings, photos and explanations of trait intensities that everyone can enjoy. (Note: we excluded traits that require touch for measurement or assessment.). It also includes background information on the foundation of Personology, modern genetic theory, trait interaction and much more!
Learn Personology the Way the Pros Do!
Enrol Today in the People Reading Distance Learning Program
Using This Book
Details and Price Below
Click Here for More Details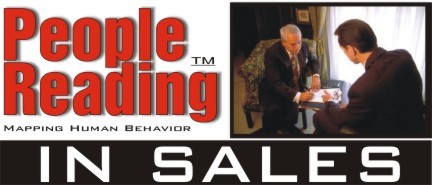 Leading edge sales book containing practical suggestions on how to read other people during the stages of the selling process and get better results. Bill spent 25 years in sales and training for two Fortune 500 companies---learning what to do and what not to do. Now you can benefit from his vast experiences in the selling arena. No one else has a such a unique view of People Reading, Personology and the business world. More than 15 traits to look for during Meeting/Greeting, Qualifying, Probing, Discussing, and Gaining Commitment. People Reading in Sales is for professionals and beginning salespeople who want to fine tune their existing people skills.
Read a Portion of the Introduction and Sample Trait

This exciting book is a DO IT YOURSELF vocational selection manual and it could change your life. Designed to help you easily do your own assessment and find the right job. If you want a fuller understanding of your own potentials, capabilities and challenges, this is the booklet for you. Are you best suited to stand or work seated? Do you prefer indoor or outdoor environment? Can you succeed at intricate work? What could be your most suitable career change? In addition, this information should be very beneficial to Human Resource Professionals or anyone who hires people for specific positions. You can pick the most desirable attributes and look for the corresponding physical characteristic. An enjoyable, interactive method of determining vocational suitability and long term job success.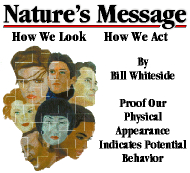 Looking for a simple, accurate explanation for why we do the things we do? Nature's Message shows the correlation between structure and function. Bill's exciting first book on Personology contains extensive trait explanations with detailed drawings and photos. He explains the importance of asymmetry, anatomy, genetics, statistical validation, and trait interaction. It also includes sections on children, criminology, handedness, brain function, and current events that point toward the indisputable validity on Personology. This book is a must for anyone interested in understanding human behavior from this exciting point of view.

People Reading Book / Activity Pricing
Price
How to Pick the Right Job
(Acrobat .pdf file ONLY via Email or CDROM)

$19.00

People Reading in Sales


$20.00

Nature's Message
(Acrobat .pdf file ONLY via Email or CDROM)

$20.00

Personal Consultation
(face to face, 3 hours, audio tape / written analysis)

$275.00

Photo Analysis
(email photos, three images, thumbnail of behavior, contact Bill for further details)

$60.00

Personology: Discovering Your Personality

$110.00

Distance Learning Tutorial


Email Bill for Details
Shipping and Applicable Sales Tax will be added to these prices.