Find Your Perfect Job!

Handy, Ready to Use Booklet to Help You
Easily Select the Right Vocation
Acrobat .pdf File ONLY

Available in our Store


Would 20% less employee turnover have a positive impact in your firm?
How would a 30% decrease in training time affect your company?
What key ingredient is missing from your workplace that would have the most positive, long-term effect on profitability? Happier employees, you say?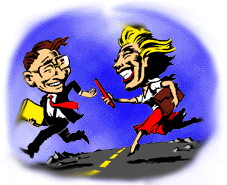 Many studies show the costs of recruiting, hiring, training, assimilating and terminating an employee are between two and three times their yearly wages. Without a doubt, these costs will rise in the coming years.




The human resources field expands on a daily basis. More and more issues seem to fall into its sphere of influence and accountability. The brochure of the Society for Human Resource Management says, "With changes in the work force and the workplace, the human resource function has become more critical to the overall success of your company. …(the) role as a human resource professional is continually changing to reflect responsibility for an increasing number of duties…"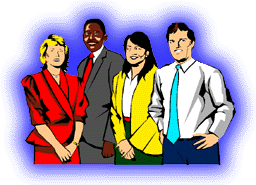 Give me a job description, I'll draw you picture of the perfect candidate. If you want to know the assorted vocational gifts each employee possesses, give me twenty minutes with them. Interested in helping your work force communicate and get along better? Show them the following pages.

This methodology doesn't replace the other behavior assessment techniques. It is another tool for tool kit. Accurate, immediate, long-term and objective….there's nothing else around quite like it. These sample trait packages illustrate how behavioral tendencies can relate according to desired behavior. Think of the job category each package pertains to in your organization.

Initially Friendly
(eyebrows very close to each eye)
These people are easy to meet and comfortable with informality. Physical closeness is fine with them.
They make others feel at ease.
These people make excellent greeters and hosts and are seldom sitting in the background when people are around.


Emotional
(very little white showing around each iris)
These people freely release their emotions quickly.
Others will know how they feel on the "inside" because it will show…negative or positive.
It is easy for them to show love, respect and compatibility when the situation calls for it.

Esthetic
(flat, straight eyebrows)
These people seek harmony and comfort in their lives.
Like to dine to candlelight, listen to fine music, take life on the best of terms, develop mutually beneficial relationships, etc.
They avoid discordance and will move to eliminate it.
So, count on them to be a "peacemaker" when things begin to get noisy, raucous and unruly.


Inventive
(eyes at different levels horizontally)
These people bring new conclusions to old facts and their associations.
They appear to have a very personal outlook and it will be different from most others around them.
Because they operate in two different moods, they have a greater latitude of understanding, a uniqueness of judgment and creative abilities.

Capacity for Thought
(forehead above eyebrows)
These people are more likely to think in abstract terms. It is an indication of their capacity for pure intellect.
They like intellectual companions, work and recreations.
They are concerned with the implication of things; concerned about how one idea connects with another.


Ideas
(high frontal dome)
These people have developed the conscious, associational thinking areas of their brains.
These people are resourceful and full of excellent ideas.
When they direct their minds, make use of their ideas and drive through to completion, they will be a benefit to any project.